September 15, 1941
Inmates:
John Richard Bayless
Location:
Powerhouse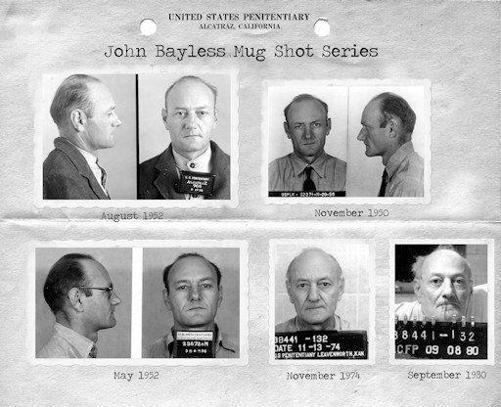 A series of mug shots of John Richard Bayless, spanning fifty years. The progression of images illustrates the effects of nearly a lifetime spent in prison. Bayless was one of the few inmates to be released from Alcatraz only to return following another crime conviction.
John Bayless was one of a small select group of inmates who were sent to Alcatraz twice, under two completely separate convictions. He was born on May 16, 1915 into a middle-class family in Wichita, Kansas. His father was steadily employed as a railroad worker and his mother was described and an affectionate and devoted homemaker. Like many boys of the age, he became a Boy Scout, developed an avid interest in science and attended church every Sunday. It wasn't until he turned sixteen that his life started to change course. While he was still in high school, his parents decided to divorce and this was apparently a very traumatic experience for Bayless. He was sent to live with his grandmother in Willow Springs, Missouri, and after graduating high school in 1933, he decided to enlist in the U.S. Navy.
In the Navy Bayless was trained as an aircraft mechanic on the Aircraft Carrier USS Saratoga, based out of Long Beach, California. But despite his naval training and a promising future in aviation, he detested military life. On July 28, 1935, Bayless wrote a bad check for a payment on a 1931 Ford Roadster, deserted the Navy and drove back home to Missouri. The car was immediately reported stolen and Bayless was soon arrested after being caught trying to forge his grandmother's signature on another check. He was convicted of forgery and on December 16, 1935, and was sentenced to serve two years at the U.S. Southwestern Reformatory, in El Reno, Oklahoma.
Within only a few months of his release, Bayless met and married an attractive young girl named Gwendolyn, and the two quickly moved into a furnished apartment. However, his wife soon grew suspicious that her new husband didn't work, yet somehow always seemed to have money. He would leave with friends for long periods during the day and return without volunteering any information about his activities. He finally told his young bride excitedly that he had inherited money and that they would receive the entire sum the following month. She too was excited, and was now starting to adjust into her new life.
On October 29, 1937 the couple decided to drive to Wichita, Kansas with John's seventeen-year-old friend Orville Sims and his wife Orletta, so that Gwendolyn could visit her mother. When John tired during the drive, Orville took over the wheel, and began driving erratically. Orville lost control and the car rolled over numerous times before plunging violently into a ditch. John and Gwendolyn, who were riding in the backseat, found themselves pinned underneath the wreckage. They were finally able to free themselves and hurried to the nearest hospital. Gwendolyn had suffered serious injuries including a fractured vertebra in her neck and a broken femur in her right leg. John walked away with only a minor back injury and a few stitches in his left hand. Gwendolyn would need to remain in the hospital for several weeks, so Bayless decided to rent a car and head back home to get some money.
A local newspaper, The Wichita Eagle, ran a story on the accident and this helped to alert law enforcement officials to the location of Bayless and his partner in crime. After meeting with Gwendolyn, police decided to raid the Bayless apartment, where they found bank diagrams and other items that linked John to a series of crimes. At the same time that agents were raiding the apartment, Sims and Bayless were in Mansfield, Missouri, casing a bank. Dressed in dark blue overalls, each with a watch chain dangling from his pocket, the men drew guns on two female employees at the downtown Merchants Bank. They locked the two women in the bank vault, and made off with all of the cash from their tills.
When news of the bank robbery was broadcast over police radios, the agents headed to Sim's residence, where they found both men asleep. On awaking, Bayless made a comment that would be entered into his arrest report: "Lucky you caught me asleep copper, or I'd have blasted you."  In early 1938, several FBI agents and United States Marshals, all armed, escorted the young men to the courtroom. Bayless and Sims stood before Judge Albert L. Reeves in the Federal Court of Kansas City, pleading guilty to two Federal Grand Jury indictments for robbery of an FDIC bank using force, violence and deadly weapons. They were sentenced to serve twenty years for the first count, and twenty-five years for the second. Bayless would arrive at Leavenworth on February 1, 1938, and he was transferred to Alcatraz on November 29, 1938, as inmate #AZ-466.
The official transfer order for John Bayless to be sent to Alcatraz in 1936.
At Alcatraz, Bayless was considered a low-maintenance inmate who rarely sought trouble. He was a loner, and spent most of his time during recreation periods by himself. On September 15, 1941, Bayless was assigned to the garbage detail, which was generally considered a choice assignment by the inmates. This work detail permitted Bayless to collect garbage and debris from all over the island, under limited supervision. On this day at the end of his shift, Bayless made a spontaneous decision to escape under a dense layer of fog. Just before the inmates were rounded up for the final count and rallied back to the main cellhouse, Bayless slipped away and dropped to the rocky shore near the powerhouse. But by the time he had made it to the water's edge, the guard staff noticed him missing from his work detail and immediately notified the Control Center. The piercing sound of the klaxon siren rang out over the island.
Bayless removed his shirt, shoes, and socks, then immersed himself in the water until he was chest-deep. He would later state that once he was in the ice-cold water, he had trouble staying afloat, and quickly realized that he would be unable to make the swim across the Bay. Wilkinson, one of the officers assigned to the same detail, quickly spotted Bayless in the water. The prisoner didn't resist capture, and after being shackled, he was marched directly into D Block. When Bayless was brought to trial in San Francisco on January 28, 1943, he again demonstrated his desperation by breaking free and making a dash from the U.S. Marshals while they were inside the courthouse. He was immediately tackled, and was sent back to isolation on Alcatraz. In April of 1943 he was convicted of attempted escape, and was sentenced to serve an additional thirty years.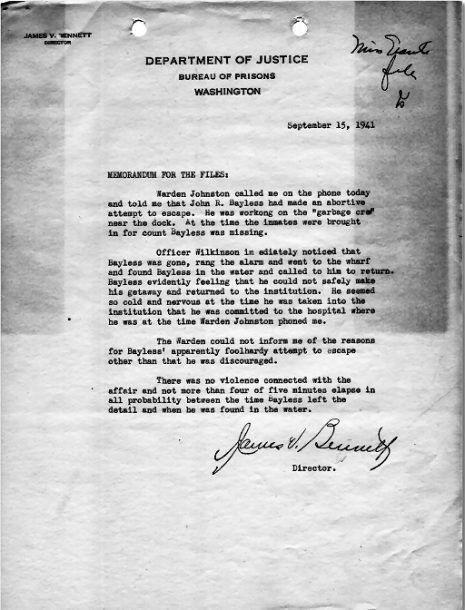 A memo from the Director of the Bureau of Prisons, describing the escape attempt by Bayless.
A Telegram describing Bayless' attempt to escape from a full courtroom in San Francisco. Ironically, he made a second break for freedom during his trial for the first escape attempt.
Bayless would serve his time quietly in segregation, and would eventually earn a transfer back to Leavenworth in November of 1950. He was awarded a conditional parole release on August 19, 1951, and landed himself back in jail on February 26, 1952, after committing another bank robbery. This time he was convicted and sentenced to serve thirty-five years. One year to the day after his release, he arrived for his second term at Alcatraz on August 19, 1952, as inmate #AZ-966.