We, the jury, find that the said Arthur R. Barker met his death attempting to escape from Alcatraz Prison from gunshot wounds inflicted by guards unknown.
On December 30, 1940, Henri Young fatally stabbed Rufus McCain. He would later claim that this act resulted from conflicts that arose during the failed escape attempt of 1939. In news reports describing the murder trial, it was reported that Young stated to the jurors: "McCain held a great deal of animosity toward me. He wanted to use the wives of the guards as shields in the break, but I wouldn't do it. I obstructed the plan. I told McCain freedom wasn't everything, but he wouldn't listen."  Young's life would later be fictionalized in the book and motion picture Murder in the First.
The escape of 1939 had been the first ever on the Rock to demonstrate a weakness in the main security system. This would be last escape to initiate from within D Block.
ESCAPE ATTEMPT #5
Date:
May 21, 1941
Inmates:
Joseph Paul Cretzer
Sam Richard Shockley
Arnold Thomas Kyle
Lloyd H. Barkdoll
Location:
Mat Shop (Model Industries Building)
Joseph P. Cretzer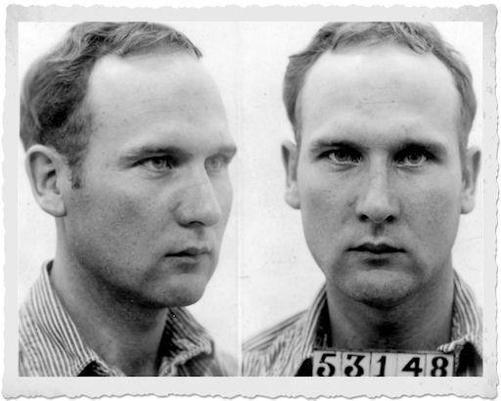 Sam Richard Shockley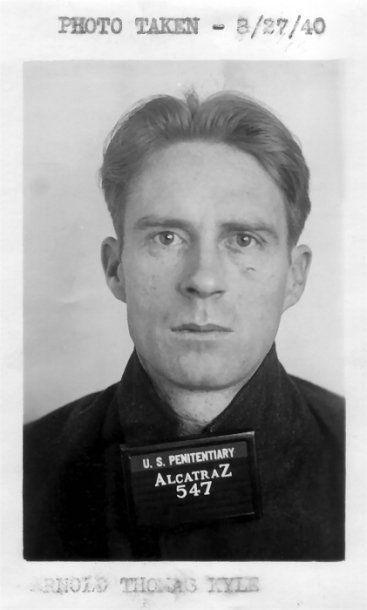 Arnold Thomas Kyle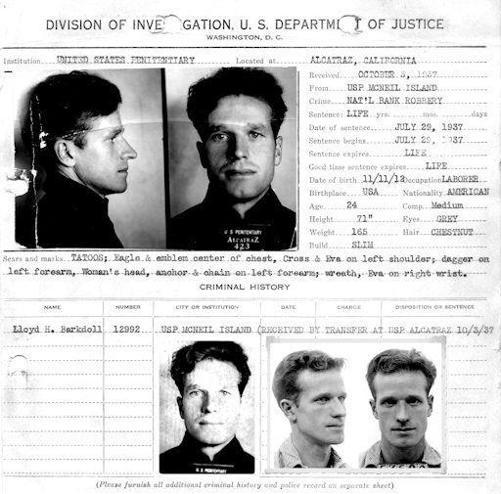 Lloyd H. Barkdoll
The 1941 escape attempt by inmates Joseph Cretzer, Sam Shockley, Arnold Kyle and Lloyd Barkdollwould unexpectedly serve as a prelude to the bloodiest chapter in the prison's history, known as the Battle of Alcatrazin 1946. The biographies of Joe Cretzer, Sam Shockley and Arnold Kyle are covered extensively in a later section chronicling the events of '46. Prior to their capture in 1939, Cretzer and Kyle had been considered the number-one bank robbing team in the nation. They had previously made spectacular breaks from other penitentiaries and would seize upon the slightest opportunity to break from the Rock. All four men were serving life sentences and were assigned to work details in the Rubber Mat Shop.
Lloyd Barkdoll was later said to have been the principle instigator of this escape attempt. He had previously been serving a life sentence for a series of bank robberies in Oregon, and he was transferred to Alcatraz on October 13, 1937 from the Federal Penitentiary at McNeil Island, where prison officials believed that he was planning a mass escape. Barkdoll had also been a key witness during the famous Henri Young trial, and Warden Johnston had subsequently stated in a newspaper interview that Barkdoll's sole purpose for testifying had been to seek an opportunity for an escape.
The Alcatraz escape attempt took place on May 21, 1941. Just after the inmates had returned from lunch, Clyne Stoops, a correctional officer assigned to the Industries was lured into the mat shop under the pretense that a piece of equipment had stopped working. As the officer started to examine the piece of machinery, the four inmates overpowered him, bound his hands and feet with heavy gauge twine, and then gagged him. The prisoners then took control of the workshop and moved eight other inmates who chose not to participate into an adjacent room.
Taking turns and using a heavy piece of pipe, they struggled to pry open the inside casement, which was made of heavy wire. After nearly thirty minutes of intense prying, they were caught off guard when another officer entered the workshop. In a newspaper interview with the San Francisco Chronicle, Warden Johnston later recounted the following events:
They had worked at it about half an hour when Manning, who wasn't expected, entered the shop on a routine inspection tour. They had a lookout posted. When Manning entered one grabbed him on each side and one from behind, and they hustled him into the room with Stoops, binding him but not gagging him.
Then they went back to the window. By this time they had pried off part of the casement. They dragged over a small motor driven emery stone and began grinding away at one of the toolproof bars.
One of the convicts remained posted at the door as a guard, and when Officer Johnston entered he was hustled in with the other officers. So far as I can gather they at no time used any weapons on the officers, just overpowering them by surprise and strength of numbers. Barkdoll is a big, husky man and took the lead.
Finally Captain Madigan entered the shop. They overpowered him too. But Captain Manning pointed out to them that it was time for the officers to ring in to the administration building, and that an alarm would be sounded if the officers failed to ring in. They were about ready to give up anyway. They had to cut through at least and probably three of the bars before they could drop down to the outside and they hadn't even cut through one.
So they freed Madigan. He phoned the administration building, and by the time we got there he was leading them away.
In a later report, Barkdoll was commended for protecting the officers from being assaulted. It rea..."It was reported that during the escape attempt, when Cretzer, Kyle, and subject tied up the officers and threatened them with hammers and other weapons, Barkdoll kept the others from injuring the officers and protecting them from assault." All four men were immediately sent to solitary confinement. Shockley would serve the remainder of his time at Alcatraz in the segregation unit, until the 1946 escape attempt.
After he had been integrated back into the general prison population, Barkdoll would earn the designation of a model inmate. His progress reports reflect unanimous praise for his leadership abilities promoting positive conduct. The correctional staff characterized him as cheerful, friendly, and cooperative, with a pleasing personality and all the qualities of a natural leader. On March 12, 1945 he was assigned to the kitchen detail, and was later promoted to work in the Officer's Dining Room. He would also be credited with starting an inmate orchestra. When other inmates participated in a culinary strike in October of 1948, Barkdoll stayed on the job, helping wherever he could. He was clearly liked and respected by prison officials, who provided him with monetary rewards even though he worked in a non-compensated industry assignment. On March 7, 1950, Barkdoll developed severe chest pains while walking in the recreation yard. He was taken to the hospital and shortly thereafter suffered a fatal heart attack. Under the direction of his wife, Barkdoll's body was sent to Schroeder Mortuary in Coquille Oregon for burial.
Although the escape attempt of 1941 had proved unsuccessful, it was destined to become a prelude to a later prison tragedy...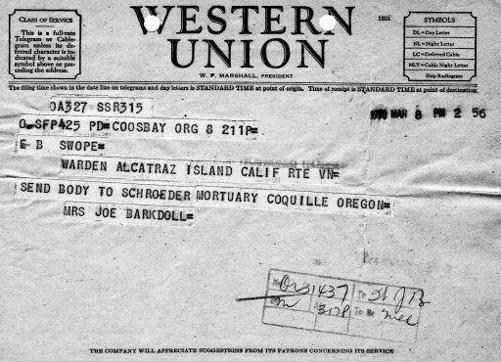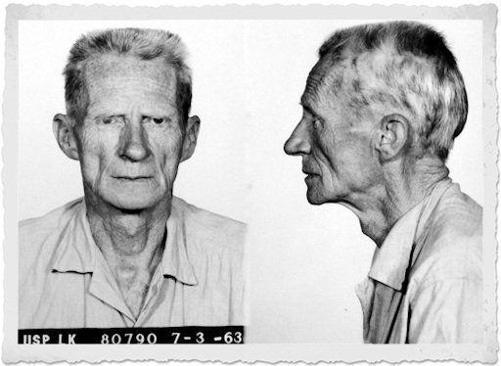 A photograph of Arnold Kyle, taken in 1963. The effects of decades spent in prison are plainly evident.
ESCAPE ATTEMPT #6
Date: